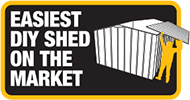 Easiest DIY Shed on the Market
Here at SteelChief we understand your time is valuable. That's why our sheds are the easiest DIY products on the market. Our team assemble the shed into ready made walls and roofs, meaning you simply need to screw the corners together and fix the shed to the ground! Don't be fooled by a shed that comes in a cardboard box. You will spend hours on end attempting to assemble a structure that is likely to be inferior in terms of strength and durability. There are a number of videos that demonstrate how easy our sheds are to install. So insist on a SteelChief shed today and spend your weekends doing the things you love!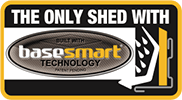 BaseSmart® Technology
SteelChief is always looking to improve the design and functionality of our products. That is why we developed the unique BaseSmart Technology. The L-shaped member at the base of the shed prevents the build up of unsightly debris that occurs with the traditional U-shaped channel system. The design is essentially a self flushing system that will leave your shed looking clean and help prevent the onset of premature corrosion. We are the only shed company with this unique concept and we've had many customers provide positive feedback on the feature.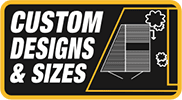 Custom Designs & Sizes
Do you have some narrow space down the side of the house that could be the perfect place for a storage shed? Or maybe it's an odd-shaped corner in the backyard where a shed needs to follow a particular fence line? Whatever you're dealing with, we have the solutions. SteelChief are highly experienced in designing and building sheds that customers want. If you are unsure where to start, we recommend you take a few measurements of the space and send them through for us to consider. Whatever your challenge, let us help you solve your storage solution!
Concrete & Installation
Our sheds are easy to install, but if for whatever reason, you'd like assistance, we're here for you. For those that require additional services such as delivery to your address, installation of your product, concreting and site preparation, we can help arrange these in a number of locations. If you live in Melbourne, Sydney, Adelaide, Ballarat, Geelong or Bendigo and want the work done for you, contact us today for a quote. Where concreting is required an obligation free site quote can be arranged. We offer a rebated concrete slab that helps minimise the amount of water ingress around the base of the shed. If you are outside of these areas then we are still likely to be able to assist with these services, so please contact us.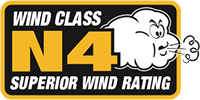 N4 Wind Rating
SteelChief sheds are designed and built to meet the superior N4 wind rating. The N stands for a 'non-cyclonic', or normal, region and level 4 means wind speeds up to 180km/hr. Your shed must be installed correctly on a concrete slab with all of the fixing screws in the appropriate place in order to minimize the risk of wind damage. Discuss the number of concrete clips required for your shed with our team. If you are in a particularly exposed area, we recommend upgrading your shed to a steel frame. The fully welded internal frame provides even more security against the elements.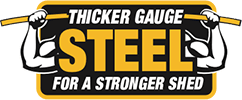 Thicker Steel
Our sheds are manufactured to meet Australian standards and the harsh local weather conditions. The steel we use is 0.35mm thick, which is a great deal stronger than sheds that come in a box. So insist on investing in a locally built garden shed that will go the distance. If you are looking for an even stronger cladding profile, consider the corrugated sheeting. This heavy duty steel comes in at a gauge of 0.47mm and the ribbed profile provides an even sturdier shed.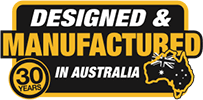 Australian made
All of our sheds are built right here in Ballarat, Victoria. We employ many local, skilled staff to manufacture your shed into pre-made walls and roof to ensure installation is simple at your end. When you buy from SteelChief you are supporting a local, family-run business who pride themselves on delivering a quality product to the customer. Insist on an Australian-built shed, made for Australian conditions – not something that is brought in from overseas in a cardboard box.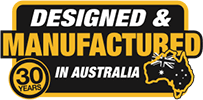 Huge Range of Options
We want to ensure you get the shed you want. This means there are a huge range of options to choose from. These include items such as windows and skylights for additional light, plenty of door options to accommodate all preferences, and shelving to raise items off the floor. Check out the comprehensive list on each product page to help you design the shed for your backyard.
Configure & Get a Price
Configure options, play with sizes, and get a price on-the-spot.
"Friendly, professional and Knowledgable. Staff arrived on installation day, as promised. They communicated with myself throughout the installation to ensure the correct positionIng and any additional Requirements were met.Highly recommend.
"SteelChief were the only company I found who offered customised options. I got the exact shed needed and for a great price. The customer service from sales and delivery was great. Highly recommend SteelChief if looking for a qreat quality shed.
Matthew c
— Google Review
"Steel Chief was very helpful in adjusting a shed design to what we needed. We were kept updated on timing. The shed was easy to assemble, sturdy, very good quality shed - suits our needs perfectly.
"I couldn't be happier with the shed. Was dreading getting a new shed after the hassles of building a couple of Bunnings self assembly sheds. I know I'm slow but they took the best part of a couple of days each. What a revelation the Steel Chief shed was! Basically up with a couple of hours and it looks great.
"Utterly professional. Bought 2 custom designed sheds. They arrived in the expected time frame. Put them up ourselves. Easy instructions on YouTube.
Stephen M
— Google Review
"Steel Chief are great sheds. Very high quality and you can custom them to the way you want. Sturdy and easy to install. Lots of additional features that you can upgrade for more versatility. Highly recommend.
"Great customer service and easy to deal with, given it was a custom design! Highly recommend their products, which are manufactured in Australia.
Matthew M
— Google Review
"The process was simple, Louise was very knowledgeable on the products she was offering, and beyond to meet our tight time frame. The installer was also prompt and extremely clean and tidy. I would highly recommend.
"An excellent company to deal with. Sales staff very helpful. Shed is well built and came in six pieces which went together easily. A very solid shed and looks great too. The only company which could provide me with the size and layout I required.
Learn
More shed help & articles