The information below is to be used as a guide only. There may be other rules and regulations specific to your local council. We highly recommend you contact your local council to determine whether your project requires any permits and/or approvals.
The BCA (Building Code of Australia) NOTES a Class 10a Building as a non-habitable building including sheds, carports, and private garages.
Victoria
A freestanding Class 10a building is exempt from all Parts of the Regulations, and from any requirement for a building permit, provided it—
has a floor area not greater than 10 square metres;
is no more than 3 metres in height, or if within 1 metre of a boundary, is no more than 2.4 metres in height;
is not constructed of masonry;
if appurtenant to a building of another Class on the same allotment, is located no further towards the frontage than the front wall of the building to which it is appurtenant;
if not appurtenant to a building of another Class on the same allotment, it must be the only Class 10a building on the allotment and be set back at least 9 metres from the front street alignment and at least 2 metres from each side street alignment.
If the proposed Class 10a building does not meet the above requirements, an owner or their agent should seek the advice of a building surveyor about obtaining a building permit.
South Australia 
You will require Development Approval for a shed or other similar structure only if:
Its use is more than secondary to a house 
(e.g. a separate house or business); and/or
The floor area exceeds 15m² (10m² in the North Adelaide Historic 
Conservation Zone); and/or
The width or length exceeds 3m and no part of the building is more than 2.5m   
above the natural surface of the ground and/or
Is being constructed, added to or altered so that any portion is: 
– situated in closer to the street than the main building on the land 
or 
– is within 900mm of a boundary of the land with a secondary street  (if the land has frontage to more than 1 road
It is located within 6m of a corner boundary that faces two roads, other than 
where a 4m by 4m corner cut off has been provided and/or
If your property is identified as a Local or State Heritage Place 
The following elements should be incorporated into the design of garages, sheds, carports,  verandahs, pergolas and shade houses, particularly if they are located on side boundaries:
A size and shape that complements and does not dominate the existing 
house or nearby houses;
Building materials, colours and textures that complement the existing house or 
nearby houses; and
Minimal overshadowing of the windows and private open space of 
adjoining properties.
New South Wales 
Projects such as a garden sheds and workshops are may not require council approval if they are deemed to fall under the "exempt developments" section in the law.
They do need to meet specific requirements to be exempt such as:
There are no more than 2 structures per property.
In residential zones it can be no larger than 20sqm.
If its in rural zones RU1, RU2, RU3, RU4 and R5 it can be no larger than 50sqm.
It is no higher than 3m above the ground level.
It is set back a minimum of 900mm from each boundary.
It cannot interfere with the entry to, or exit from, or the fire safety measures within another building.
It cannot be a shipping container.
If your property is bushfire prone land it must be constructed of non combustible materials.
Australian Capital Territory (ACT) 
In the ACT, a Class 10as building is exempt from needing development approval provided that:
the building is enclosed by a roof and has walls on every side, or every side except 1
it is not more than 3m above natural ground level (the structure can be as high as 4 metres above ground level if no part is higher than a 30o plane – see picture)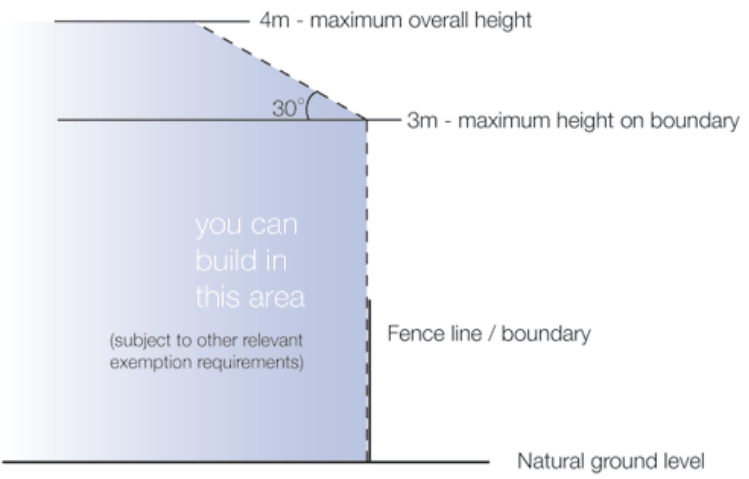 it is behind the building line, and if it has a plan area of more than 10m2, it is at least 15m from the block's front boundary
Additional criteria apply if two exempt class 10 structures would be built within 1.5m of a side or rear block boundary.
Please note that:
if the block size is not more than 500m2, a max plan area of 10m2 applies
if the block size is 500m2 to 600m2, a max plan area of 25m2 applies
if the block size is 600m2 or more, a max plan area of 50m2 applies
you should also consider other general exemption criteria that may apply.
Queensland 
According to the Building Regulation 2006 and the Queensland Development Code, you do not need building approval if your shed:
is no more than 10 square metres in area
is no more than 2.4 metres in height (with an average mean height of no more than 2.1 metres)
is no longer than five metres to any side
will not affect the structural integrity of existing buildings, retaining walls or other structures on property or the adjoining property
will not alter an existing pool enclosure or pool fence.
You are responsible for ensuring the work complies with applicable standards. These include structural sufficiency, size limits, fire separation and boundary setbacks, outlined in the following laws (building assessment provisions):
any local law or local planning instrument the Building Act 1975 allows to apply to the assessment