Flooring Options For Garden Sheds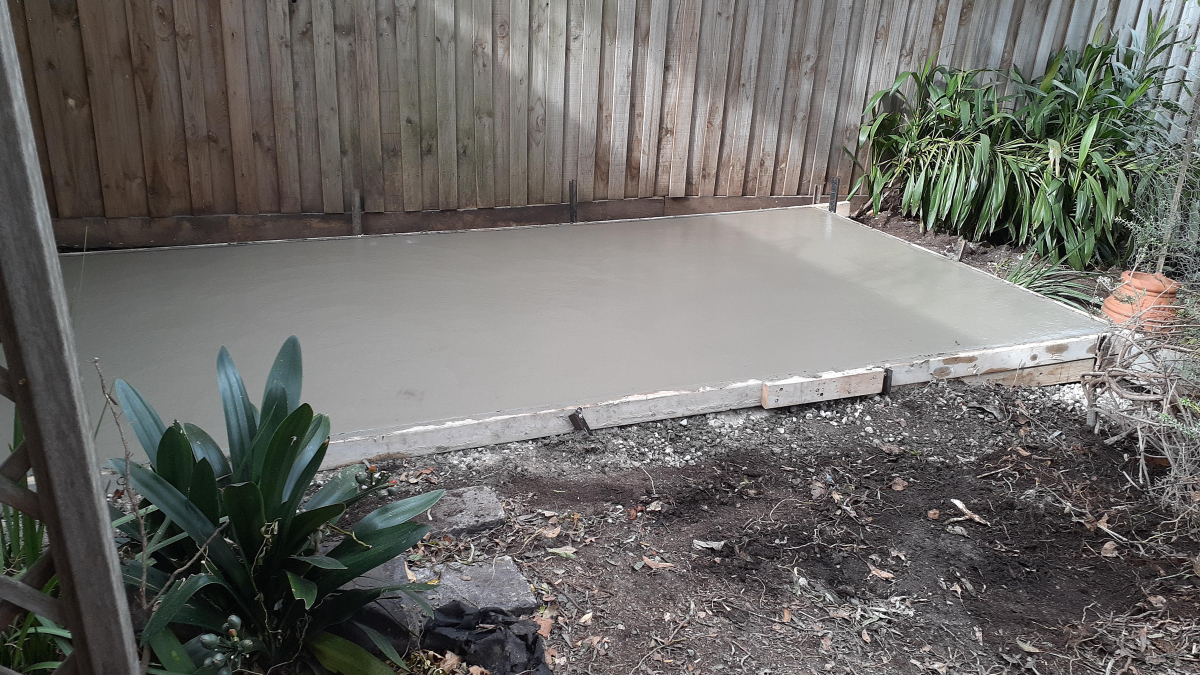 When it comes to the floor of your shed, in most cases you'll have two options: concrete or wood. For very small sheds used strictly to store simple garden tools, anchoring the shed directly to the ground (no flooring) may also be an option. Here we guide you through the decision-making process and offer some tips on design options, preparing the site, and anchoring your shed. Let's start with concrete.
Pros for a concrete floor for your shed
Longest lasting
Strongest wind resistance
Water resistant
Cons of a concrete floor for your shed
Can't be moved
More expensive
When do you need a Concrete Base for your shed?
If your shed is greater than 3m X 3m, you're advised to install a concrete base. The foundational strength brought by concrete is necessary to ensure structural stability for larger sheds. Further, if your shed requires a construction permit, you'll likely need a concrete base in order to achieve the required N4 wind rating.
For small roller door storage sheds as well, you will need to fix the shed to a concrete slab (the roller door makes the shed top heavy).
When can you decide between a concrete and wood base for your shed?
If the following three points are true, you can choose between concrete and wood:
Your shed is no bigger than 3m X 3m
You don't need a construction permit
Your shed doesn't have a roller door
Why choose concrete when given the choice?
Even if you don't need a concrete base, you still may want one. The main reason to choose concrete as the base for your shed is that it's durable. A well-constructed concrete base will last a lifetime with zero maintenance. You'll never have to worry about storing heavy items that may damage a wood floor, and you'll never have to repaint or do any other type of floor maintenance.
Options for Concrete Base
When it comes to concrete bases for your shed, there are two main options: rebated concrete slabs and flat concrete slabs.
The rebated option, where the walls of the shed fit snugly into a shaped ledge at the edges of concrete slab, is generally preferable: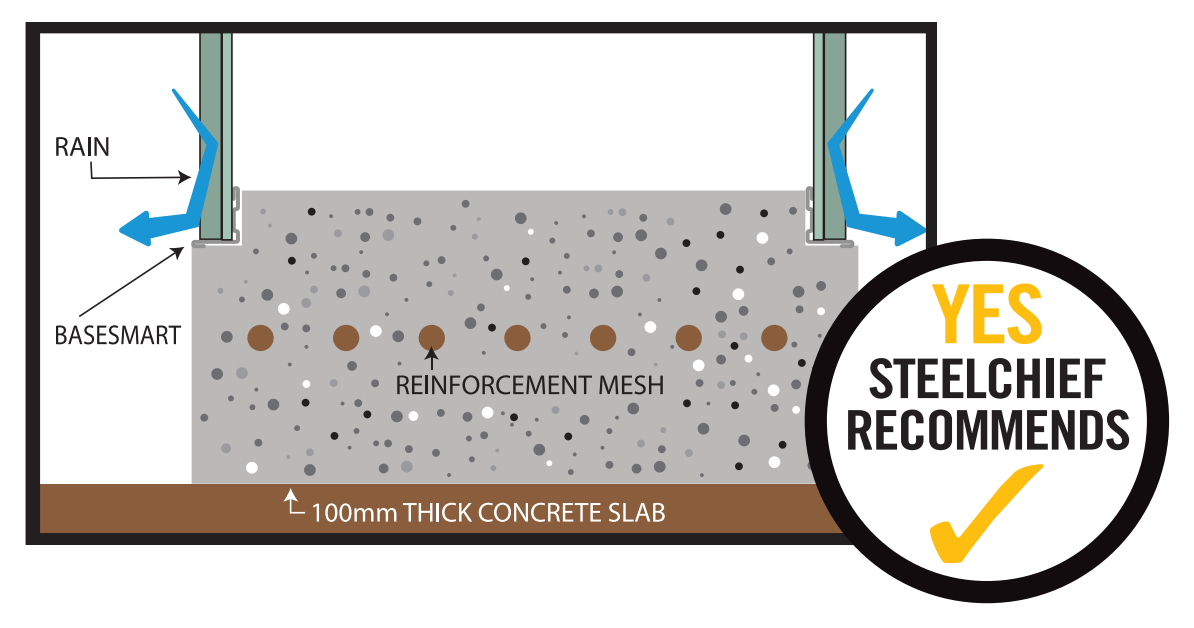 If your site has significant slope and/or your priority is matching with surrounding pathways, the flat concrete slab option may be optimal: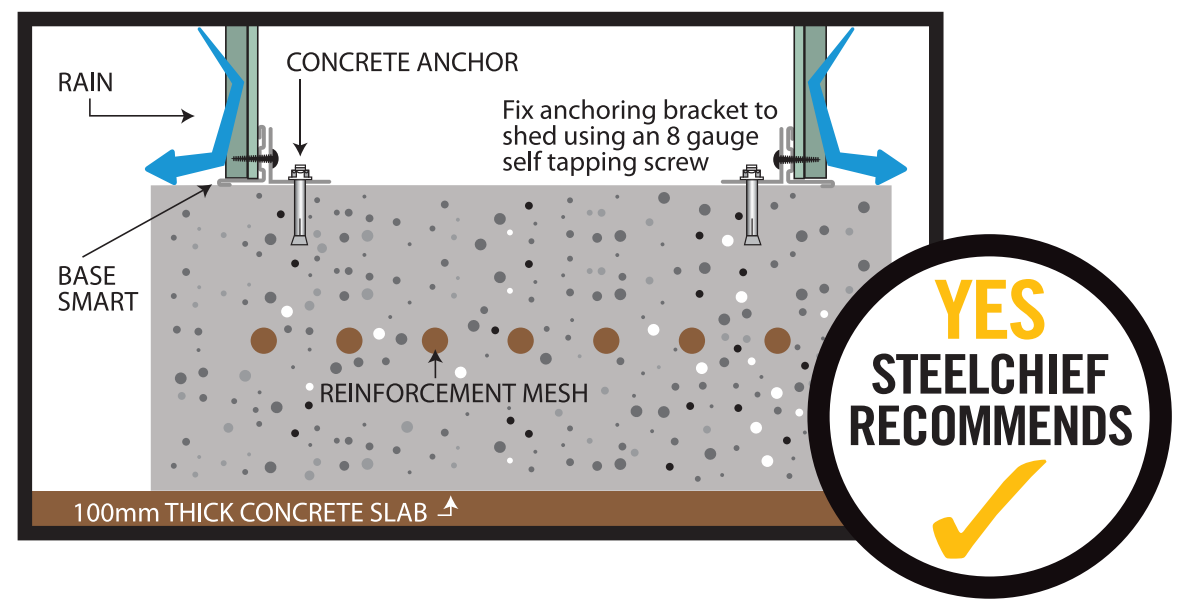 Flat concrete slabs will need to be sealed to reduce water ingress. Sikaflex is a good choice because of its grip and ability to remain soft. Clean the dust and debris away, then run a narrow bead of Sikaflex around the inside bottom rail only (do not seal the outside of the shed).
Site preparation for Concrete Base
Whether you go with a rebated concrete slab or a flat concrete slab, you'll need to prepare the site by:
Removing soft materials in the soil
Adding crushed rock to level and stabilize the site
Constructing wooden boxing high enough to enclose a 100mm-thick concrete slab
Suspending light reinforcing mesh inside the box
Wooden Floor Sheds
Pros of a wooden floor shed
Less expensive
Can be moved
More suitable to sites with significant fall
Easier DIY
Cons of a wooden floor shed
Harder to anchor
Less durable
When to choose a wooden base for your shed:
1) The site for your shed has significant fall
You obviously need your shed to be level, so if the site has significant fall, installing a concrete base will require a lot of fill, which can be prohibitively expensive. With a wooden base, however, it's easy to achieve a level floor even on sites with a lot of fall. This is done by constructing the frame on top of posts that you bury in the ground (see "subfloors" below).
2) You think you might move your shed someday
If your yard is a work in progress, you may want to leave yourself the option of moving things around someday. This is not possible with a concrete base. Note that all SteelChief sheds are easy to disassemble and reassemble, making them ideal candidates for timber bases.
3) You're planning on spending a lot time in your shed
If you're using your shed as a work space, you may want to consider a wooden base. Particularly in winter, wood feels warmer, less damp, and more comfortable than concrete.
4) You're storing cardboard boxes
Concrete is porous and allows moisture to infiltrate (in very small amounts). This means items stored directly on concrete will soak up moisture over time. Wood flooring allows more airflow, largely eliminating this problem.
Options for timber floored sheds
As with concrete slabs, SteelChief recommends rebated wooden flooring to maximise water tightness: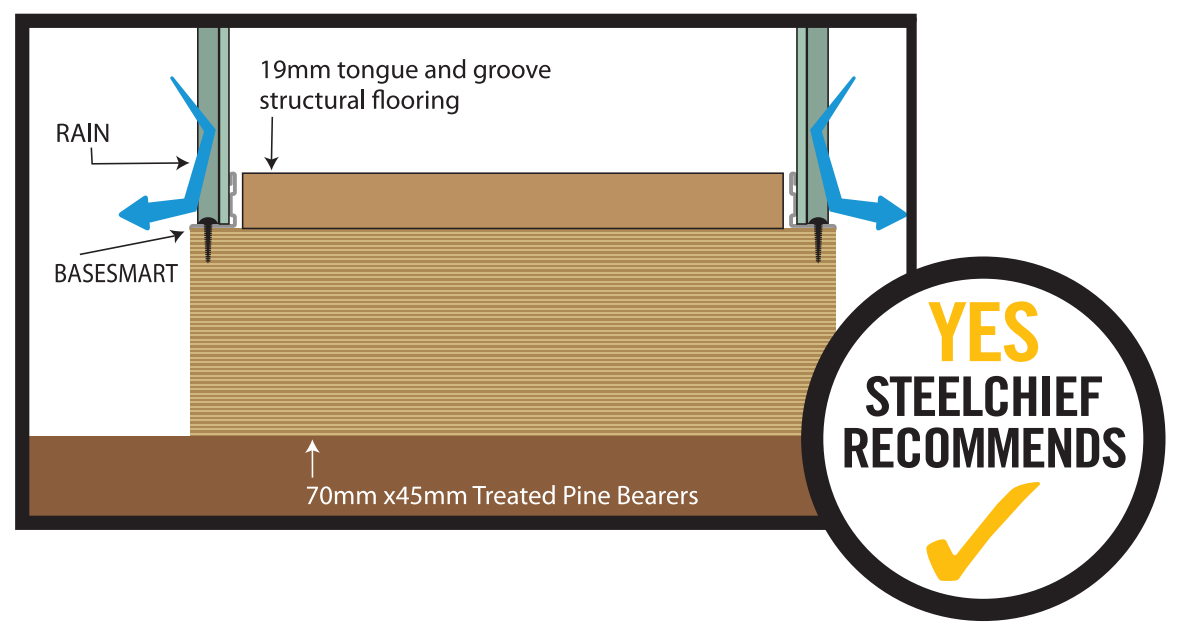 Site preparation for timber floored sheds
For timber-floored sheds, less site preparation is needed than for concrete slab-based sheds. However, you'll still want to:
Remove soft materials in the soil
Add crushed rock to level and stabilize the site
Note that the top of the frame for your timber base should always sit at least 50mm above the surrounding surface:
Levelling and anchoring your wooden floored shed
The optimal choice here depends on the amount of fall on your site, the size of the shed, and how much wind exposure you're dealing with.
Wooden Subfloors for A Garden Shed
If your site has significant fall on it, a convenient option is to add a subfloor. With a subfloor, building a level platform for your shed is a simple matter of cutting the posts to suit the fall.
Here's an example of one of our subfloors after installation: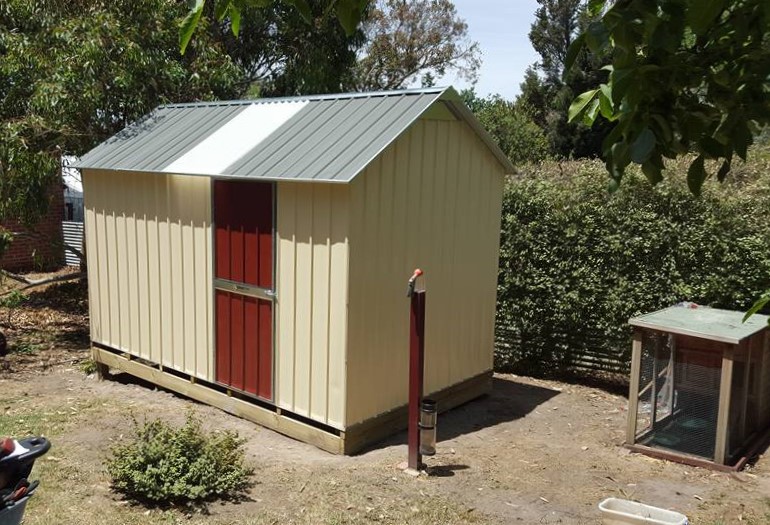 The posts will be sunk into post holes which will be filled with concrete, making for a very stable and long-lasting foundation. After the subfloor is in place, the shed is attached to it.
After the subfloor is in place, the shed is attached to it. Here's an example where a subfloor was used to level and anchor the wooden base of a shed on a site with significant fall: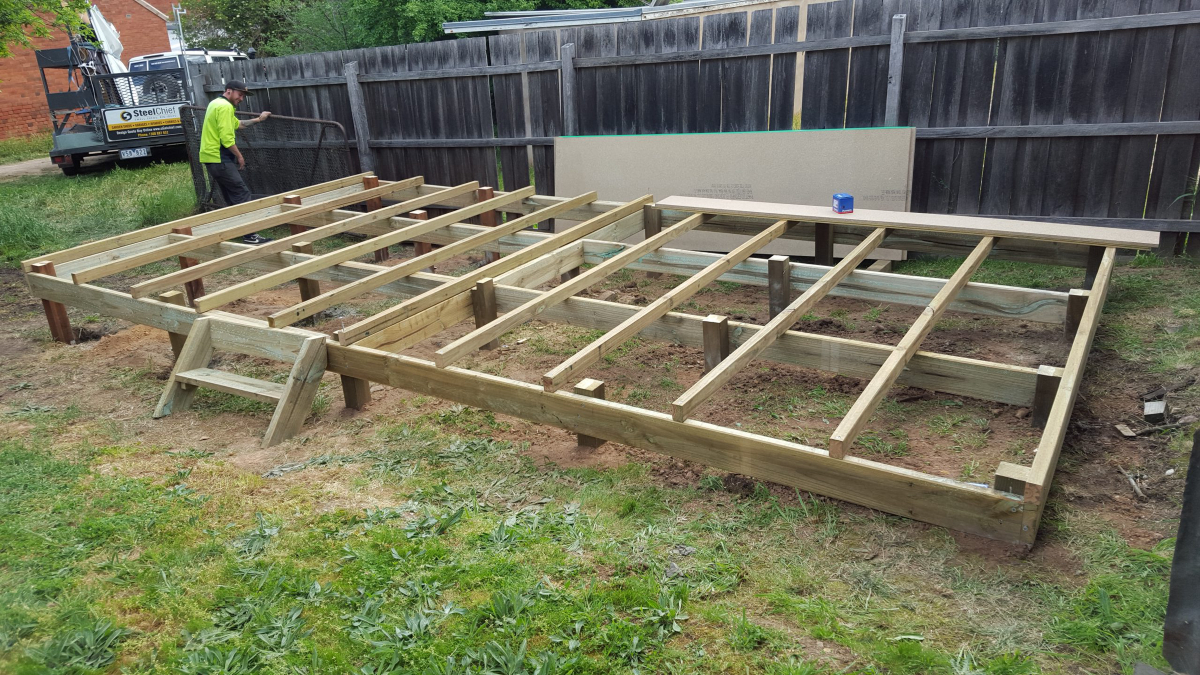 Sleeper timbers for a Garden Shed
An alternative to subfloors is to position heavy sleepers (wooden beams) under your shed walls. Sink them down until they're level with the ground, then erect the shed on top of them. Screw the shed to the sleepers through the bottom rail wood screws; at least three screws per wall.
Pavers as floor for a Garden Shed
Another possibility is to install large pavers to act as the foundation. They need to be both heavy and strong enough to allow for concrete anchors to be drilled into them. You'll need at least two concrete anchors and clips per wall, more if the shed is exposed to wind or you're using only medium-weight pavers.
Star pickets into natural ground
If your shed is very small or in a wind protected area (eg. tucked behind the fence or garage), 450mm or 650mm long star pickets may be all you need to anchor it. Drive them into the ground along the internal base of the shed until they're level with the bottom rail of the shed so you can screw in a tek screw. Attach two star pickets per wall, three if the wall is over 3.0m long.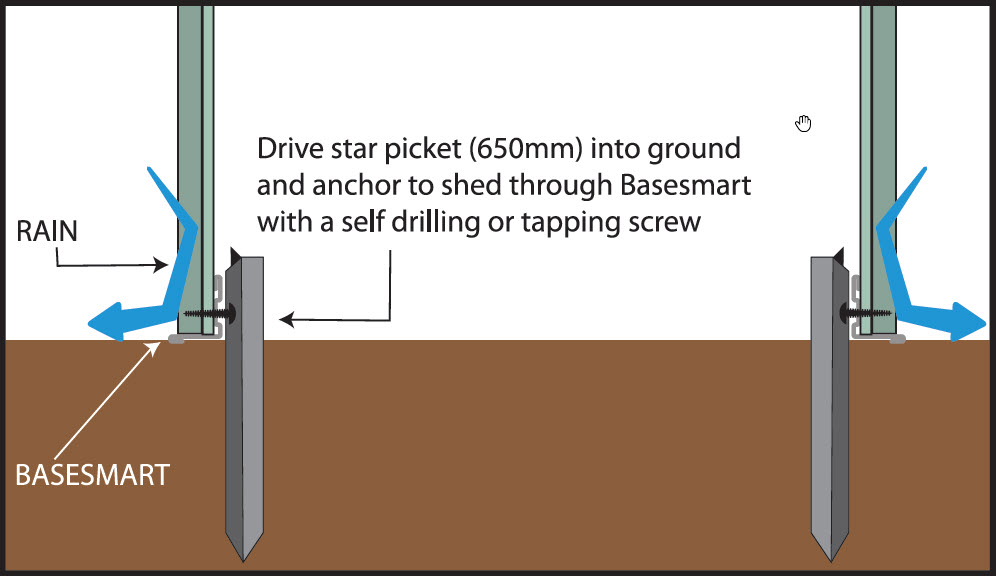 Final tips on site choice
Allow space for swinging hinged doors.
Be mindful of regulations such as that sheds must be placed no more than 150mm from a fence or wall (to prevent people and animals from getting stuck), and can't typically exceed fence height by more than 1 meter.
Consider underground pipes and maintenance requirements.
SteelChief's team of professionals are always ready to answer your questions. We are happy to guide you through the process of choosing, designing, and installing the perfect garden shed – including advising on which shed base best suits your shed type, site, and needs.
SteelChief offers a range of customisation options to help you maximise space, organise your storage, and keep your yard looking great. For example, we can build custom fit sheds and shed bases for triangular or trapezoidal spaces. Contact us for a chat and we will be happy to tailor a solution specifically for you!