If you're looking for easy, customisable, and secure boat storage solutions, SteelChief has you covered. We offer a range of options for protecting your boats and other water equipment from the elements.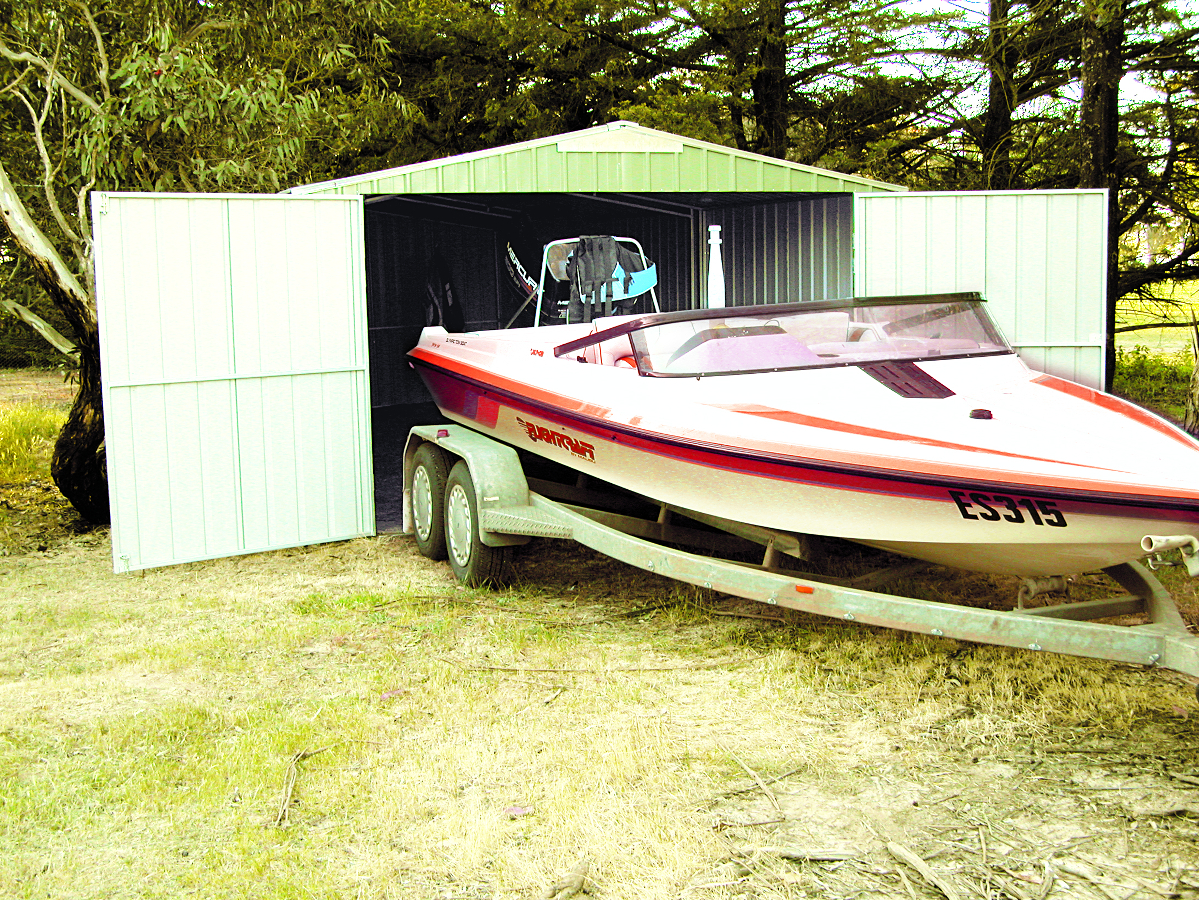 Boat Storage Shed Features
Like all our products, SteelChief's boat sheds are built to last. Whether you go with a standard steel shed or upgrade to an even stronger steel framed shed and/or corrugated steel shed, you're always getting quality materials with design and manufacture done right here in Australia. All our storage solutions integrate our Basesmart technology, which keeps debris away from the walls and protects them from corrosion. Our sheds also adhere to the stricter N4 Wind Rating, so you'll never have to worry about storms.
Fully customisable boat storage solutions
You can choose from a range of standard sizes and shapes, and select addons like windows, a skylight, shelves, and more. For larger watercraft, you'll need a shed with extra wall height. When you order from SteelChief, you choose exactly the wall height to suit your needs, all the way up to 2.4m. In most cases, for a boat shed you'll want to go with a gable roof which offers additional height and structural stability.
Made-to-order boat storage sheds
SteelChief also builds made-to-order sheds that fit perfectly into even the most challenging space. Get in touch and let us help you design the right home for your boat.
Easy access with optional wide doors or roller doors
To make sure you can utilise the entre width of your boat storage shed, SteelChief offers extra wide swinging doors. Alternatively, you can upgrade to a roller door shed. In addition to providing extra strength and durability, this option allows you to fit your boat storage shed into a tighter space.
No matter what you choose, we will build the doors and door opening to suit your boat and space requirements. Don't hesitate to consult with a SteelChief expert. The last thing you want is to assemble your shed only to find your boat or trailer doesn't fit inside.
DIY boat storage sheds
SteelChief delivers all our storage solutions direct from the factory as pre-made walls and roofs. To assemble them, all you need is a cordless drill. Simply screw together the panels together, fix the structure to the ground or concrete base, and you'll have a home for your boat in no time!
Boat storage shed installation
Anyone can assemble a SteelChief shed, no matter the size or shape, but if you'd like to leave it to the pros, the experts at SteelChief have you covered. We provide a range of services, including site preparation, concreting, installation, and even help with permits. Again, don't hesitate to contact us for advice or a quote.
Boat storage shed permits
For larger structures in some areas, you may need a permit from your local council. You can check this out by talking to your local council building department. For your reference, here's information on planning and building permits for Victoria, OTHER LINK, and OTHER LINK. SteelChief's experts can also guide you through this process or, in some cases, even apply on your behalf.